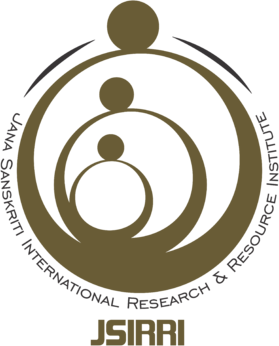 Jana Sanskriti Centre for Theatre of the Oppressed (JS) along with its extended global Theatre of the Oppressed family is stepping into a new initiative – Jana Sanskriti International Research and Resource Institute (JSIRRI).
WEB: www.jsirri.org
Vision
With JSIRRI we are hosting a space in which artists and non-artists can shape and reshape their world and work. An arena where learning is a process of exchange and sharing, where knowledge is achieved through action and where change is documented and made accessible to communities around the world.
JSIRRI's vision to use the arts to recognize and bring together different ways of knowing and of knowledge identifies bodies, participants and their contexts as landscapes of investigation.
As that research grows it will chart, explore, activate and archive the human potential for self-creation, co-creation and transformation.
JSIRRI's open space extends an invitation to all those who want to propose projects, research into practice and/or offer resources in line with these goals, creating interdisciplinary dialogue and exchange to frame new challenges and nurture embodied and productive knowledge.
Mission
We are a non-profit organization, with a strong basis in emancipator theatre (Theatre of the Oppressed), pedagogy and activism.
JSIRRI 's intention is to explore how Theatre of the Oppressed and related theatre and art forms can foster a culture of dialogue, strengthen participation and stimulate liberation by engaging with a wide range of disciplines and fields of work.
As a globally active arts hub JSIRRI connects artists and activists, practitioners and researchers both south to south and south to north, virtually and physically.
International connectivity, inclusion of all sections of society and interdisciplinary of approaches are fundamental to us.
Quelle: www.jsirri.org
Why JSIRRI?
"JSIRRI proposes to build "Connections" among all artists, especially the international theatre community engaged in the construction of a humane society……not just networks or platforms or knowledge sharing which might be temporary, but to build permanent connections…JSIRRI proposes to establish a dialogue for upholding the culture of dialogue in the community through all art forms"
What are these connections?
How will this dialogue operate?
Many other questions follow from this –
What does JSIRRI want to do?
What examples of these activities are already planned?
How will the plans and JSIRRI be funded?
Who will decide the kinds of things to take place?
Dear friends –first of all, JSIRRI is everyone's operation. Her shape will evolve based on what each of you contributes.One of the fundamental principles is that 'connections' and 'dialogue' have to be part of the way JSIRRI makes decisions.
Secondly, JSIRRI aims to be a space for critical interaction among artists and activists. A real or virtual circle where they can rehearse collectively, share and develop their practice, ideas and methods; a platform where they can initiate and encourage projects which bring together people from different kinds of practice, different disciplines; a stage on which to explore and create work, to intervene and explore solutions for the burning questions of today.
JSIRRI begins her journey from the Jana Sanskriti Centre for Theatre of the Oppressed at Girish Bhavan, named after the theatre legend of 19th century Bengal. This facility is equipped to provide food, accommodation and other necessaryfacilities at a very reasonable cost. The Augusto Boal Auditorium dedicated to workshops and performances will be inaugurated very soon.
All present activities will be carried out via individual/collective fund-raising. For the future we seek permanent economic stability. The aim is for JSIRRI to create her own physical and imaginary body as she grows. The aim is not to accumulate funds but to stimulate artistic activity for lasting, meaningful social change and to unite the forces of those who share a similar vision.
A team of directors and advisors representing all continents have come together to contribute to this; they are people who have valuable experience and expertise in making theatre for change. Nevertheless, everyone is invited to propose ideas and activities and "be" JSIRRI. There are a variety of channels which JSIRRI has set up to enable everyone inventing our future now! With these postings, we invite you to share this invitation and enable many others to participate!
Find us on Facebook, Twitter, Blog and www.c-linq.nl
written by Birgit Fritz (Quelle: www.birgitfritz.net)